Tim Grasso
#49
Class: Senior
Position: Punter
HT/WT: 5' 11'' / 221 lbs
2008:
- spent the spring in Utah. Will rejoin the team, on scholarship, in the summer
2007:
- Played in all 13 games as the Punter and holder on PAT/FG's
- Had 35 punts for 1390 yards
- 51 yards (Long, 3 times)
- 14 were returned for 250 yards
- 10 Fair Catches
- 10 inside the 20
- 4 punts in a game (3 times)
- 1 touch back
- 0 Blocks
2006:
After a year at Dixie his coach got fired and Dixie changed to a Div II school so he chose to give up his scholarships and pursue playing football for Saddleback Community College in Mission Viejo, California. They ended up winning their Conference Title and ranked #3 in the Final National Poll. Tim had a 40 yard average and placed 2nd in his division. He was honored as the player of the week twice during the season and as the conference player of the week once.
2005:
While putting together a highlight tape to send to colleges his mom told him he should throw in some punting highlights. He was recruited by Dixie State University in St. George Utah as their starting punter. He was given an ATHLETIC scholarship as well as an ACADEMIC scholarship to Dixie. He thought for sure they would use him as a receiver and just let him punt secondary like they did in high school. He found out VERY QUICKLY that wasn't their plan. That was a little hard to adjust to but he put everything he had into his season and ended up 4th in the NJCAA with a 42.7 punting average for the year.
Prep:
A 2005 graduate of Davis High School in Kaysville, Utah...Earned 3 Varsity Letters in baseball, 2 in football and 1 in basketball, track, and wrestling...was an all-county and all-state receiver for coach Ryan Bishop..garnered all-region in baseball...a member of the honor roll.
As a freshman he played wide receiver. That team went on to win the MINI_BOWL with Tim catching the winning touchdown pass. A play he called himself. He was named ATHLETE OF THE YEAR after excelling in basketball, track and wrestling.
Just before his first game of his sophomore year the coach called him aside and told him the kicker quit and that they needed him to fill in because they didn't have any other options. So Tim became the official kicker/punter by default. He only had 1 opportunity to kick a field goal that year. We were down by 2 points with 10 seconds left in the game. His coach asked him if he could do it and he said SURE! With a split second decision they decided to go for it and fortunately the ball skimmed the goal post and dropped over to win the game. He never had to kick another field goal again!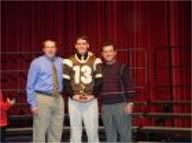 He played Varsity both his junior and senior years of high school with his primary position being Wide Receiver. His secondary position both years was punter. His Senior year was incredible as his team took the 5A State Championship. Tim lead his team in receiving and was honored as an ALL-STATE Wide Receiver for the state of Utah.
Was known as the Team Tutor for spending many hours tutoring his teammates in Math and other subjects. He has gone out of his way to keep players eligible with their grades because he knows how valuable education is.
Was the first baseball player to hit a homerun over the fence at the NEW Davis High Baseball Field.
Personal:
Tim was born August 15, 1987 in Corona, California. He has an older sister Ashley (21) (16 months older) and younger brother Thomas (15). Dad (Mark) is a Sales Rep for a Cabinet Hardware Manufacturer and Mom (Suzi) is an office manager for a Medical Clinic.
Tim spent the first 8 years of his life in Southern California and then moved to Kaysville, Utah just before he turned 9. Two weeks after moving to Utah he took up Football. Because of his size (weight not height) he had to play up 2 years. He was the smallest on the team and played kicker. He football for one more year and then gave it up for soccer.
Fun Facts:
- In high school Tim spent a whole semester taking special Culinary Classes. He thought someday he would like to become a CHEF. His claim to fame is the awesome breakfasts that he often cooks for family and friends. His sister Ashley got married July 28, 2007 and her one request was that Tim make her breakfast on her wedding day! He came through for her and then left 2 days later for Hawaii (see proof below).
- Tim has a HUGE heart. He loves to help others out and includes everyone always. One of his favorite coaches in high school (Dave Leo) has a daughter (AMY) with Down's Syndrome and she was his biggest fan. He never missed a chance to go find her while he was in his uniform and give her a hug and tell her thanks for coming to his games to watch. (see picture below)
- Tim is definitely the type of athlete that isn't afraid to perform in front of a crowd. In fact, he thrives on it! All through school he made a point to stand out and make the big play. He also has fun being the center of attention in the style department: Wore RED cleats when he played baseball, wore a Glow in the Dark BABY BLUE shoes in basketball, he had specially made GOLD shoes for football and wore camouflage knee pads for wrestling. He has always been #13 because "It's unlucky only for my opponents"
- Has a dog "RUDY" who was actually named after Rudy Ruettiger. During Fall '07 practice, the Real Rudy was the guest speaker the at the football meeting. Tim got a chance to tell him about his dog's name.
- Nicknames: T.J., Timmy and TGrass. (Mom and Dad call him Tim Buddy Dude)
- Favorite foods: Fruitsnacks, Spaghetti
- Hobbies: Watching "THE OFFICE", playing POKER and CHILLIN
- Within a month at Manoa he has been assigned numbers 96, 95, and now 49
See Related Stories:
http://hawaiiathletics.com/Player/playe ... &aid=13914
http://findarticles.com/p/articles/mi_q ... _n21181747
http://the.honoluluadvertiser.com/artic ... 20354.html
http://starbulletin.com/specials/uhfoot ... cial-teams
http://starbulletin.com/2007/08/24/sports/story04.html
http://starbulletin.com/2007/08/19/sports/notebook.html
http://the.honoluluadvertiser.com/artic ... 80386.html
http://athletics.lbcc.edu/athletichome/ ... week2.html
http://deseretnews.com/article/1%2C5143 ... %2C00.html
********************************************************************************
Ladies and Gentlemen, this is Tim Grasso