Hollywood News!!!!

Tuesday stories developing. . . .
Murray Confirms He Gave Propofol to Michael Jackson!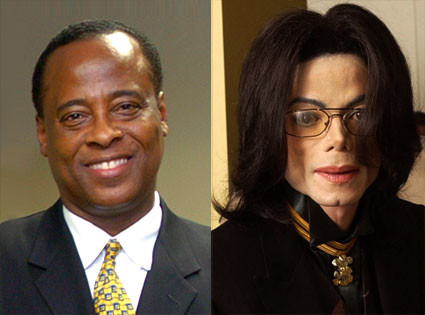 (Tmz)
In their investigation of the death of Michael Jackson, Law enforcement authorities knew they had their man in Dr. Conrad Robert Murray who administered the lethal injection that may have led to Jackson's death. How did they know? Murray had told LAPD two days after Jackson's death.

Law enforecement sources were told that Murray gave the drug Propofol to Jackson hours before his death. He gave Jackson an IV drip of the powerful anesthesia and Police believe Dr. Murray took a nap after administering the drug. At the time, it is believed that Jackson's heart stopped beating and Murray awakened to find Jackson already dead from heart failure.

An IV drip of Propofol allows a constant, steady infusion of the drug for a period of time determined by the person administering it.

Two mistakes may have occurred when Murray administered the drug. To administer an IV drip of Propofol, a patient should be monitored by an EKG, which sounds an alarm when the patient's pulse drops too low. No EKG was found in the house.

The second mistake was the lack of a device called a pulse oximeter which is used to determine the oxygen saturation in the patient's blood. If the patient's breathing slows to a dangerous level, an alarm alerts the treating physician. No oximeter was found in the house.

Even with these devices, Dr. Murray should have been awake or at least given his fullest attention to Jackson when he administered the lethal drug.

Investigators are still gathering evidence at this moment and will determine if Dr. Murray will be formally charged in the death of Michael Jackson.

Story developing. . . .
Kelsey Grammer's Plea to Keep His Sister's Killer in Prison!
Popular TV actor
Kelsey Grammer
(Perez Hilton)
Actor Kelsey Grammar (Frasier, Cheers) wasn't able to make it yesterday to the parole hearing of the man convicted of killing his sister--due to flight delays at JFK airport. Instead, a statement from Kelsey Grammer was read at the parole hearing for Freddie Glen, the man who was convicted of murdering Grammer's sister when she was 18 years old.

"This is a butcher. This is a monster," read the statement. "I can never accept the notion that he can pay for the nightmare with anything less than his life."

Karen Grammer was abducted outside a Colorado Springs restaurant, raped and murdered in cold blood on July 1, 1975.

Glenn is serving a life sentence for her murder along with being responsible for the demise of two others all within a one month period.

"She was so smart and good and decent. She wrote poetry … We could laugh for hours together," Grammer said of his beloved sister. "I was supposed to protect her — I could not. It very nearly destroyed me… When we heard this man might be paroled, the suffering began anew."

Glenn will be eligible for parole in 2014.
Hollywood Shorts!!!!!
Reggie Bush
with
Kim Kardashian
in tow are splitsville!
Reality-star Kim Kardashian and New Orleans Saints football player Reggie Bush have split.
Joe Jonas
and
Camille Belle
breakup!
Joe Jonas of the Jonas Brothers band and Camille Belle (10,000 B.C.) have split.
Linda
and
Hulk Hogan
are officially DIVORCED
Hulk Hogan and new ex-wife Linda Hogan have finalized an agreement on their divorce. No details of the agreement have been released but the Hulkster announced, "He is a free man!"
Farrah Fawcett
and her son
Redmond
The late Farrah Fawcett left her son Redmond $3M. Fawcett appointed two trustees for Redmond to ensure that her son will sober up from his drug use.
Bradley Cooper,
the current "IT" boy in Hollywood
"
Hangover" star Bradley Cooper, who is single, has been playing the field. He's gone on dates with Jennifer Aniston, Renee Zellwegger, and just recently---Denise Richards.
Sacha Baron Cohen
in character as "Bruno" is in a heap of trouble with a terrorist group
Al Aqsa Martyrs Brigade, a Palestinian terrorist group based in the West Bank, has issued a death-threat against actor/comedian Sacha Baron Cohen for his portrayal of the group in his film, "Bruno." In the film, Bruno meets with Martyrs Brigade leader Ayman Abu Aita and tries to get himself kidnapped. The group did not like the way Aita was portrayed in the film. Cohen is taking the death-threat seriously and is stepping up on security for himself and his family.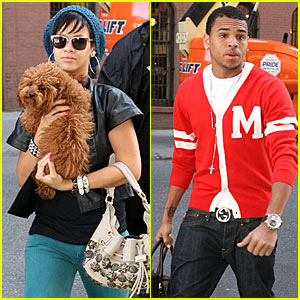 Rihanna
and
Chris Brown.
Are the two back together again? We hope not!
Rihanna and Chris Brown spending time together? That story has yet to be confirmed but this past weekend, the two checked into two separate rooms at the Trump International Hotel and Towers in NYC. The NY Post reports that the two went to great lengths to take separate cars and decoy cars to throw-off reporters. Brown has a restraining order which forbids him from seeing Rihanna. Uh oh.
Rapper
Nas
and R&B singer
Kelis
R&B singer Kelis won her stage of the battle in a bitter divorce with husband rapper Nas. Yesterday, Nas was ordered to pay $40k a month for child and spousal support and an additional $45k to cover Kelis' legal fees and other expenses that have mounted since their split. Nas is fighting the court ruling and has already scheduled a hearing on September 8 to contest the court order.
The $20M dollar man,
Chris Tucker,
owes $3M to California!
Chris Tucker (Rush Hour 1,2,3) owes California over $3M in back taxes!!!! He was handed the bill last month. This is from a man who was paid $20M doing Rush Hour 2!!!!