kapakahi notified me about this article in yesterday's paper.
Star Advertiser:
http://www.staradvertiser.com/sportspre ... uards.html
It's on the football field, however, that Kagawa has drawn the most attention. He played cornerback, safety and slotback last fall, then graded out as the No. 2 athlete at the recent Nike Sparq combine. That led to a phone call from UH coach Norm Chow to former UH coach Bob Wagner, the athletic director at KS-Hawaii, last week. By the time Kagawa phoned Chow, a scholarship offer was on the table.
---------------------------------------------------------------------------------------------------------------------
SHAUN KAGAWA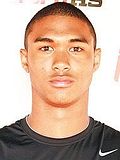 WR/DB, 5-10, 171 lbs. (4.53 40 yd dash)
(Kamehameha School-Hawaii : Hilo, HI)
(Offered Scholarship)
Video:
http://espn.go.com/high-school/football ... id=7521249
Star Advertiser:
http://www.staradvertiser.com/sportspre ... uards.html
ESPN.com profile:
http://espn.go.com/college-sports/footb ... aun-kagawa
ESPN's SPARQ Combines:
http://espn.go.com/high-school/football ... ne-recap&f
Maxpreps.com profile:
http://www.maxpreps.com/athletes/yVcf1r ... kagawa.htm