Link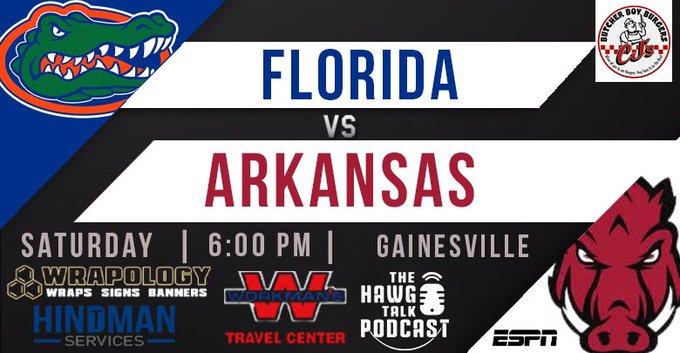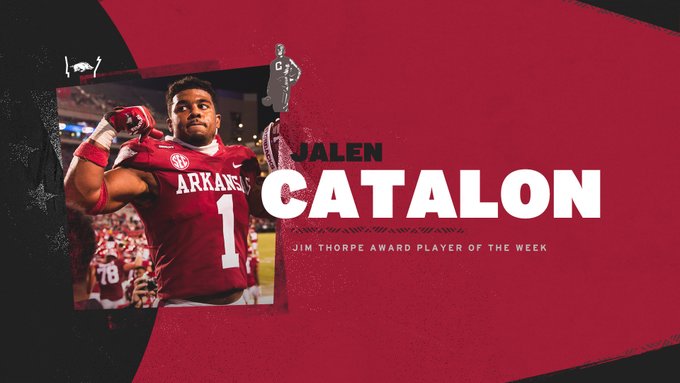 https://247sports.com/Article/Quarterba ... 154629034/
FAYETTEVILLE, Arkansas — Feleipe Franks is anxious.
The Arkansas quarterback is preparing for a family reunion in Florida, where he played three years and led the Gators to a 10-win season in 2018.
He'll see his former teammates and dozens of friends on the Florida sideline Saturday as the Razorbacks (3-3) face No. 6 Florida (4-1), but he's actually anxious more about who is in the stands at The Swamp than who he will play against on the field. No, it's not the loud Florida fans — and it's certainly not the cameras that will be trained on him throughout the game as he plays against his alma mater, former coaches and teammates.
"The only thing that's gonna be interesting with this game is he's gonna see his niece," said Ginger Franks, Feleipe's mom. "He's already told me to have her down so he can see her before the game. He hasn't seen her in like a year. He's pretty excited about that."
Still, Franks has plenty riding on his return trip to Florida. Franks' story is filled with highs and lows. He wasn't a huge hit with Florida fans in the Jim McElwain era, but he did take over as the starting quarterback in Dan Mullen's first season leading the program. The former Top 100 recruit helped turn a four-win team into a 10-win program with a victory against Michigan in a New Year's Six bowl game.
"He came in, took a bad situation and turned it into a really good one and helped build a foundation," Mullen said this week. "He put Florida back to where everyone expects Florida to be as a top-10, national program."
Fast forward two years and now Franks is suddenly a rival. He didn't expect to play against his former team this season, but the coronavirus pandemic shifted the schedule, allowing the SEC to add Florida to the Razorbacks' 10-game, conference-only slate in August. Franks didn't leave Florida to get away from a toxic situation, however. This isn't the story of a disgruntled former player out for revenge.
Franks suffered a horrendous ankle injury in the third game of the 2019 season. As Florida trailed 21-10, Franks tried to convert fourth-and-1 by running upfield. He instead was stacked up and bent backwards by Kentucky defenders.
He screamed in pain. The Kentucky crowd fell silent after a big fourth-down stop with their Wildcats leading 21-10.
"I thought his back was broken," his mother said. "That's what it looked like on the Jumbotron to me. … Then when I went down there, I was worried about his ankle and he was worried about letting the team down."
The entire Florida team surrounded Franks after he was loaded on a cart to be carried off the field. Kyle Trask was one of those players. Trask, who had been in a three-year battle for the starting job against Franks and was possibly set to take over despite the injury, grabbed the reins on the ensuing possession. He led the Gators to 19 unanswered points in an epic comeback that propelled him to the role of starter for the rest of the season. A year later, Trask is among the top quarterbacks in the country and is a legitimate Heisman Trophy contender for the playoff-hunting Gators after a victory against rival Georgia last week.
One year ago, Franks was forced to watch the ensuing success from the sidelines. His rollercoaster career was seemingly over. It was a career filled with success, but also boos and intense criticism from fans and ESPN analysts, including Kirk Herbstreit, throughout his three years on campus. "Before we got here (in 2018) he had a rough go of it with the fan base, with everything going on," Mullen said.
Franks was placed on blast when ESPN cameras caught him chirping at Miami fans in the 2019 season opener. Herbstreit questioned whether Florida could be a contender with an emotional quarterback like Franks, who often offset big plays with stomach-churning interceptions and fumbles.
Franks, admittedly, had to grow up. "Wisdom comes through experience, not age," Franks said.
He spent those months recovering from ankle surgery growing emotionally and listening to Mullen's wife, Megan, who Ginger lovingly referred to as her son's second mother. "She was there making sure Feleipe was OK," Ginger said. "I could always call her. The Mullens are always going to have a special place in our heart, without a doubt. They're great people."
On the field, it was clear Trask had a tight grip on the starting job at the end of the 2019 season, and Franks, now a Florida graduate, was out of the picture. He wanted to be the starter during his final year in college football, but as Mullen said in their discussions, the Gators had two worthy quarterbacks on the roster and Franks was the odd man out heading into his senior season. Mullen supported Franks' departure, which ultimately landed the quarterback at Arkansas, a program on a 19-game losing streak in the SEC.
Franks hoped he could lead a turnaround alongside newly-hired head coach Sam Pittman. He did it before as Florida's quarterback, and Pittman did it as an assistant at Georgia, so why not Fayetteville, where the program was starting from the ground floor?
Pittman went to work quickly, hiring former Baylor assistant Kendal Briles as offensive coordinator and former Missouri head coach Barry Odom as the defensive coordinator. The three coaches — and Franks — had something in common the entire roster did not: the experience of contending for championships. They were the new boys in a town that hadn't seen a winning season in four years, and their voices quickly became louder than the others in the locker room.
Pittman and Franks were the fuel to the fire, and it didn't take long for them to set the Boston Mountains ablaze. Arkansas snapped its losing skid in Week 2 with a 21-14 victory at then-No. 16 Mississippi State. The Hogs have since won two more games by double digits, including a 24-13 victory against Tennessee last week.
"Those two came from winning programs. And they brought this kind of mindset of, 'Hey, we know how to win, just follow what we're doing,'" Mullen said. "And you look at it with the combination of the coaches and having a quarterback — and obviously they have a bunch of talent on the team on both sides of the football. What's probably changed is the mindset of how they play, and that's why they're having the success. I know Feleipe was probably a major part, with their coaching staff, changing the mindset of the team."
It's difficult to argue Mullen's theory. After all, he leaned on Franks in his first year as Florida's coach and the result was a 10-win season. Now Franks has Arkansas playing competitive football for the first time in three years.
"He's always been a great quarterback," Trask said. "I'm happy for him, and he's playing well over there. Arkansas definitely got a good quarterback in Feleipe."
Franks' swan song might be his best performance yet. He started 24 games at Florida, where he threw for 4,593 yards and 37 touchdowns, but he's been at his best in 2020. His passer rating is at a career-high 154.7. He's thrown 14 touchdowns against only three interceptions in six games, and is on pace to break the school's record for completion percentage (67.2), which would eclipse the likes of Bobby Petrino's Tyler Wilson and Ryan Mallett.
Franks is doing it all against the toughest schedule in Arkansas' history: a 10-game SEC schedule with seven teams currently or previously ranked in the top 25, including the top four teams in the conference.
This game at Florida, however, is the biggest one yet for him in a Razorback uniform. A victory could potentially derail Florida's playoff run and simultaneously place Arkansas back on the national map.
"He knows this game is not just about him, it's about us," Pittman said. "He just has to go out there and do his job the best he can. Hopefully he doesn't have too much added pressure. We'd all be fooling ourselves if we don't think he has pressure on him because that was his former team — and he's got a lot of love for the players on Florida's team as well."
It's rare for a quarterback to be at the center of major turnarounds at two separate programs in the same conference. Franks is on his way to flipping the script at Florida and Arkansas in the span of only two years. Then again, the 2020 season is not finished yet, even if three wins seemed impossible at Arkansas just a few months ago. Franks wants to "finish out the season strong, to go out there and change things around here and the culture around here. It's important for me right this second," he said this week.
"Being a part of both stories is awesome," he continued. "It's a blessing at the end of the day."
In The Swamp, Franks' mom — with his niece — will watch him write another chapter Saturday in Gainesville.
"When your kids reach a certain age, you kind of get this moment where you're like, Oh, wow, they finally get it. They're not the kid anymore. They're a man now," Ginger said. "And I think that's what's happened with Feleipe over the last year."
247Sports video link below
https://247sports.com/Article/Quarterba ... 154629034/