Hollywood News!!!!! (All things that matter in POP CULTURE)
Aloha Friday (August 28, 2009) !!!!!!!!!!
BREAKING NEWS!!!!!!!!
DJ AM Found Dead in his apartment!
Club DJ,
DJ AM
is dead
DJ Am aka as Adam Goldstein, 36, was found dead at his New York apartment at 5:20pm EST. Drug paraphenelia and prescription pills were found near Goldstein's body.

DJ AM was a prominent "disc-jockey" playing at famous clubs and venues. He once dated actress Mandy Moore and was engaged to reality-star Nicole Richie. He was a notorious "sneaker-freak" and had a sneaker collection containing 600 shoes! He was a frequent guest on the message board of Niketalk.com..

He survived a September 2008 plane crash along with friend Travis Barker after a college event in Columbia, South Carolina. He and Barker sustained severe injuries. The Lear jet crash killed two crew members and two other passengers.
Guys and Dolls Nightclub Is Being Investigated by the Alcohol Beverage Control for Serving to Underage Individuals---namely a popular R&B Singer!
Chris Brown
may be part of an investigation at
Guys and Dolls
for serving alchol to minors!
Guys and Dolls in West Hollywood was the scene of fighting just last night between Girls Gone Wild founder Joe Francis and Reality star Brody Jenner (The Hills, Bromance) and Playboy Playmate of the Year 2008, Jayde Nicole, AND partying by a well-known R&B singer, Chris Brown, who was just sentenced to 5 years probation at an L.A. court that day! Today, the Alcohol Beverage Control (ABC) people came to Guys and Dolls to see if there was any violation of underage drinking!

Does anyone know that Chris Brown is 20??? Yes, 20 years old!!!!! The Liquor Licensing people require drinkers to be 21 and over! Although ABC did not specifically name Brown as the individual in question, the investigation continues!!!!!!

Did security know about Brown's age? Did they allow him in based on his "star" status? Somebody "dropped-the-ball" at Security. Guys and Dolls is in serious trouble!
This just in from L.A. Coroner's Office on the Death of Michael Jackson!
Medical Examiner
concludes
that high levels of Propofol killed Michael Jackson
The L.A. Medical Examiner has concluded that the offical cause of death of Michael Jackson is due to acute Propofol intoxication.

The drugs PROPOFOL and LORAZEPAM (Ativan) were found to be the primary drugs responsible for Mr. Jackson's death.

Other drugs detected were: Midazolam (Versed), Diazepam (Valium), Lidocaine (topical anesthetic) and Ephedrine (used to treat hypotension associated with anesthesia).

The manner of death is ruled a HOMICIDE!
Girls Gone Wild! Founder Wanted for Assaulting Playboy Playmate of the Year 2008, Jayde Nicoel!
Jayde Nicole
and
Brody Jenner.
Girls Gone Wild
founder
Joe Francis
(right)
(BittenandBound.com)
Girls Gone Wild founder Joe Francis is wanted for allegedly beating up Playboy Playmate of the Year 2008, Jayde Nicole at the Guys and Dolls in West Hollywood last night. Nicole was with her boyfriend, Brody Jenner (The Hills, Bromance) who was celebrating his birthday at the time. Everything seemed fine until Nicole and Jenner noticed that Joe Francis was trying to hit on one of Jenner's ex-girlfriends. Nicole thought that Francis was harassing the woman and threw a drink on him.

An enraged Francis retaliated by pulling Nicole's hair, punching her in the face, and threw her on the ground and kicked her! A friend of Nicole tried to help but she too was punched by Francis.

Security tried to break up the fight and grabbed Francis while tearing his shirt off in the process. Both Francis and Jenner were thrown out of the club. Once outside, Jenner punched Francis in the face before being tased by security and falling to the ground.

Police were called at 2:46am but Francis left before they arrived. Nicole, who has a bruised and swollen face, a bruised left rib and pain in her lower abdomen, intends on pressing charges against Francis.

Yet another problem for the controversial GGW founder who never escapes trouble. By the way, Francis is scheduled to stand trial in October for tax evasion charges.
Some Details of Michael Jackson's Autopsy Report Will be Released Anytime Now!
Latest updates
concerning the investigation on Michael Jackson's death
The upcoming details from the L.A. Medical Examiner's office may not shed any new information that the public already knows regarding lethal amounts of Propofol found in Michael Jackson at the time of death. The Coroner's office does not plan to release the entire autopsy report but it will release the Medical Examiner's conclusions as to the cause of Michael Jackson's death.

In the meantime, a Beverly Hills Crime Lab truck and a patrol car are seen parked in front of Dr. Arnold Klein's building. No word on what is being investigated there.

(Tmz) The document showing the items removed by the DEA from Mickey Fine Pharmacy was obtained by Tmz. The document shows the DEA " "60 prescriptions, 29 patient print-outs, 3 copies of DEA Forms 222 (Order Forms), and copies of inventories of controlled substances."

Mickey Fine was used extensively by Dr. Arnold Klein and other doctors who treated Michael -- it's also where Jackson obtained prescriptions for Demerol and many other drugs.

The latest finding from a search from Jackson's rented home was 2 bags of marijuana. A report of finding heroin in Jackson's bedroom proved NOT to be true. The marijuana find is an addition to the endless amount of prescriptions drugs and other paraphenalia found at his home.
An Uncertain Future for the Hawaii Film Industry
(Honolulu Advertiser/TimRyansReelHawaii.com)
The demise of Act 221 (100 percent tax credit against Hawaii state taxes) and the Governor closing the Hawaii Film Office on November 13 has pushed the local film industry into an uncertain future. Blessed with beautiful weather and scenery that can emulate locations from anywhere in the world, Hawaii would be the perfect spot for shooting a film but a lack of financial support now makes the situation less than ideal---at least financially for local and mainland companies.

Already, some projects have been cancelled while others find difficulty raising capital, a problem for most local producers. Film brought $200M in revenue to the islands over the past 5 years but the competition to fight for projects is getting tougher. North Carolina is making a big push for films and Michigan is starting to look towards the film industry to boost their economy while the car industry lags. Tahiti is seeing their tourism dollars sink so they have looked to attracting the film industry for business. Tahit's participation for film dollars is bad news for Hawaii, definitely.

Many opponents of Act 221 say it is a "rip-off" and that filmmakers will come here to film anyway (maybe not as often) while supporters state that Hawaii needs economic diversification and repatriation of its youth, and that the tax incentives are well justified.

It should be noted that Hawaii is in the running for the new "Predator" movie by famed Director Robert Rodriguez studio, Troublemaker studios. Kaui Hart Hemmings book, "The Descendants" will begin filming in Hawaii in early 2010.

With ABC's "Lost," closing next March, most local film production companies, including Jason Lau's Talk Story Productions ("The Tempest"), Rann Watumull's Hawaii Film Partners ("You may not Kiss the Bride"), Ric Galindez' Island Film Group ("The Last Princess") and Brett Wagner, partnering with Moana Productions ("Chief"), were relying on Act 221. They'll have to find other sources of capital.

The film industry in Hawaii is at a crossroads and support for a once-thriving industry will be needed in a hurry!
Hollywood Shorts!!!!!
Fresh from heart surgery, Comedian
Robin Williams
is busy!
Robin Williams has been signed by Touchstone Pictures to star in "Wedding Banned," about a long-divorced couple who kidnap their daughter to prevent her from making a mistake! His latest movie "Old Dogs" is set to be open November 25 along with John Travolta.
John Krasinski
and
Emily Blunt
are engaged!
John Krasinski (the Office), 29, and British film actress Emily Blunt,(Devil Wears Prada, Dan in Real Life), 26, are officially engaged. They had been dating since November 2008. No date on the wedding yet.
WWE's Rey Mysterio
has been suspended for 30 days effective September 2!
Popular WWE wrestler Rey Mysterio (Oscar Gutierrez) was suspended 30 days for violating the company's policy effective September 2. No further details were given. Some suspect he failed a drug test---namely steroids.
The state of
Michigan
is not only known for being the car capital but a Hollywood film destination as well.
Michigan seems to be the new destination for Hollywood filmmakers who love the scenery and the tax incentives. Clint Eastwood's "Gran Torino" was filmed in Michigan as well as films starring Robert De Niro (in his film, "Stone"), Hillary Swank ("Betty Anne Water"), and Val Kilmer ("The Irishman").

New projects already underway are Rob Reiner's "Flipped" and the remake of "Red Dawn" with Tom Cruise producing.
Musician and budding director
Rob Zombie
is making a push towards respectability in Hollywood
With Halloween 2 under his belt and opening TODAY, Director Rob Zombie will take on his new project, remaking the 1958 classic "The Blob."
Action star
Jet Li
is taking a vacation from martial arts films to do a drama
Jet Li will return to China to film his latest project which is NOT involving martial arts surprisingly but a film drama about a relationship between father and son. Li has a cameo appearance on Sylvester Stallone's "The Expendables."
The networks will see "old skool" audiences in the Fall!
ABC, CBS, CW, Fox, and NBC will see the majority of its audience average 50 years and above. The networks regularly preach about advertising towards the 18-49 age bracket but with the current numbers, the baby-boomers (normally the big spenders) cannot be ignored!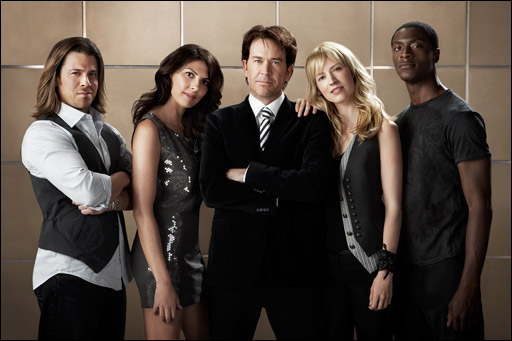 Academy Award winner
Timothy Hutton
(center) heads the cast of TNT's
"Leverage"
TNT sees that its crime/drama "Leverage" has leverage with first seasons numbers at 3.9M viewers and a second season of 4.1M viewers which gave the network good reason to renew the series for a third season!
Carrie Underwood
surprised students at her old high school,
Checotah High School
Carrie Underwood is giving back to her old high school music program by donating $117,000 worth of musical instruments. The students at Checotah High School were suprised today when Underwood appeared on campus to make the massive contribution in conjuction with her foundation C.A.T.S. and ACM Lifting Lives foundation.
LAUGH TO THE WEEKEND !!!!!!!!!
Let's "Laugh to the Weekend" with Comedian Jim Gaffigan and his love for HOT POCKETS:
Link
Comedian Eddie Murphy during his standup days does his classic "Ice Cream Man" skit:
(Warning: Explicity Language!)
Link
and finally, Mad TV's Bobby Lee in his standup days:
Link